Meditation has become increasingly popular in recent years as more and more people strive to find ways to reduce stress and improve their mental and physical well-being. There are many different ways to meditate, and one of the most essential pieces of equipment you will need is a meditation pillow.
A meditation pillow (also called a zafu) is a small, round cushion that is used for sitting in meditation. The zafu elevates the hips and pelvis, which allows the spine to straighten and the legs to cross comfortably in front of the body. This position helps to improve the alignment of the spine and pelvis, and it also allows the diaphragm to expand fully for deep breathing.
There are many different types of meditation pillows available on the market, so it can be tricky to know which one to choose. In this article, we will review the best meditation pillows on the market and give you everything you need to know to choose the perfect one for your needs!
Disclaimer: This blog post contains affiliate links. I may earn a small commission to fund my coffee drinking habit if you use these links to make a purchase. You will not be charged extra. So it's a win for everyone! Please note that I won't link any products I don't believe in or don't resonate with my blog site. Thank you!
What To Look For In A Meditation Pillow
When looking for the perfect meditation pillow for your needs, it is important to:
consider the size
material
support it offers
Most meditation pillows range in size from 14" to 18", and some offer adjustable fillings for an adjustable height. The material of the pillow should also be taken into consideration, as some are filled with buckwheat hulls, cotton, or foam.
Finally, you will want to find one that provides comfortable support, as the wrong pillow can be very uncomfortable and could lead to back or neck pain. Whether you're looking for a firm, supportive pillow or a softer, more comfortable one, there are plenty of options available to choose from.
Different Types of Meditation Pillows
There are several different types of meditation pillows to choose from, and each has its own set of pros and cons to consider.
One of the most popular types are zafus, which are round, specially designed pillows filled with buckwheat hulls. The benefits of these are that they are lightweight and adjustable, and the buckwheat hulls conform to the shape of your body for a more comfortable sitting experience.
Crescent pillows, however, are another popular option. These are slightly more supportive when compared to zafus as they are filled with supportive foam, which can be great for those who suffer from back pain.
Gongi pillows are a more recent type of meditation pillow that are filled with shredded foam. This provides a more ergonomic shape and offers greater support when compared to a traditional cushion.
Finally, for those who suffer from allergies, there are hypoallergenic pillows which are often filled with either cotton or foam and are covered with a breathable fabric.
The Benefits of Meditation
Meditation is a great way to improve both your physical and mental well-being. It can help to reduce stress and anxiety, improve focus and concentration, and even boost the immune system. It also helps to build resilience and improve overall cognitive function. Regular meditation can help to increase self-awareness, reduce rumination, and increase compassion.
It can even help to alleviate physical pain, improve sleep, and reduce blood pressure. Furthermore, research has also found that meditation can lead to a rebalancing of hormones in the body, which can help with more stable and productive moods.
How To Meditate With A Pillow
Meditating with a meditation pillow is quite simple. Once you have chosen a pillow, sit in a comfortable position with the pillow in the bend of your hips or under your legs, making sure that your spine is straight and your legs are crossed in front of your body. Take some slow, deep breaths, allowing your body to settle into the posture until your spine is fully supported and your seat is comfortable.
From there, you can either focus on an object or phrase or simply observe your thoughts without judgment. Take slow, deep breaths and become aware of any sensations in your body. Once you're ready to move on, slowly return to your normal breath and open your eyes.
The Best Meditation Pillows On The Market
When shopping for the perfect meditation pillow, you will want to make sure that it is the right size, material, and level of support for your needs. We've done the research for you and made a list of the best meditation pillows on the market that all come with great reviews and are ideal for achieving zen.
1. Florensi Meditation Cushion
Introducing the Florensi Meditation Cushion: a harmonious blend of traditional Tibetan design and modern comfort. With a stunning velvet cover, it boasts a 4.8-star rating from 8,381 reviews, earning it Amazon's Choice as a Popular Brand Pick.
Filled with sustainable buckwheat hulls and soft foam padding, it supports your practice while promoting proper posture, relieving joint stress, and enhancing circulation. Its exquisite mandala pattern complements any space, making it both functional and decorative. Florensi's commitment to well-being shines through in every stitch, offering not just a cushion, but a path to holistic health.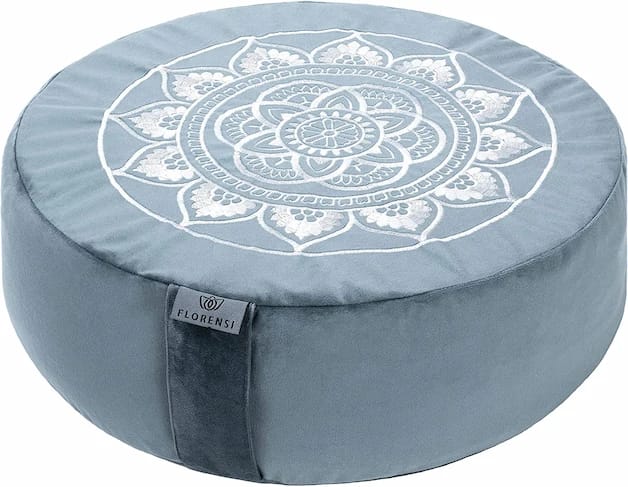 2. TockSay Buckweat Pillow
Introducing the TokSay Buckwheat Meditation Cushion, a versatile and premium floor pillow for enhanced relaxation. With a 4.7-star rating from 425 reviews, this gem from TokSay Store offers optimal comfort and support. Filled with bug-free treated buckwheat hulls, it ensures ergonomic alignment, promoting relaxation in meditation.
Use it as a seat or floor pillow at home or on the go, featuring a removable, machine-washable cover and grab-and-go handles. A perfect gift, available in various colors. Discover the ultimate comfort and tranquility with TokSay.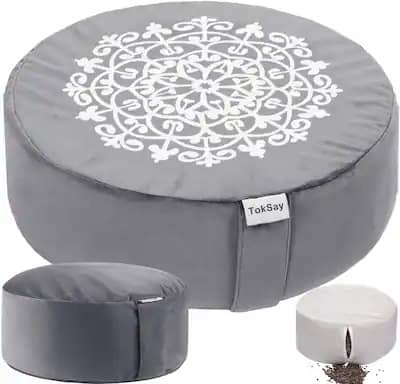 3. Codi Meditation Floor Pillow
Introducing the Codi Meditation Floor Pillow, a perfect blend of comfort and style. With a 4.7-star rating from 642 reviews, it's a must-have from the Codi Store. This pillow combines a round white pillow insert and a mandala cover for a consistent and high-quality product. Enhanced with premium shredded memory foam, it maintains its shape and rebound, providing superior comfort compared to typical floor cushions.
The vibrant round boho case, featuring cute white pom pom trim, adds a touch of art to your home decor. The machine-washable cover ensures easy maintenance. Measuring around 32 inches in diameter and 5 inches in thickness, it's the ideal size for various uses. To ensure smooth zipping, follow the special reminder provided. Rest assured with your purchase, as Codi stands behind its product quality.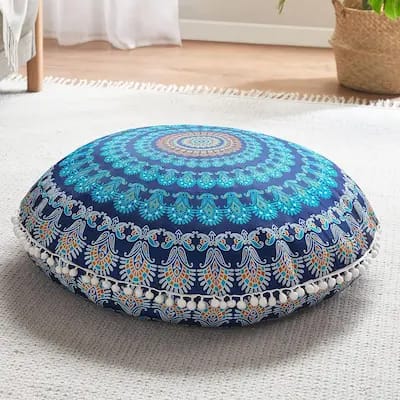 4. Retrospec Sedona Zafu Meditation Cushion
Introducing the Retrospec Sedona Zafu Meditation Cushion, a versatile gem for your meditation practice. With a 4.7-star rating from 1,479 reviews, it's Amazon's Choice Overall Pick from the Retrospec Store. Crafted with care, it serves as a firm pillow, yoga block, or more in your wellness routine.
Its built-in strap ensures easy transport. The 100% cotton cover is machine washable, eco-friendly, and free from synthetic fibers. The core, filled with sustainably sourced buckwheat, offers adjustable firmness. Incorporate the Sedona cushion to enhance posture, reduce fatigue, and deepen meditations. Available in various sizes and styles, including Crescent and Basil, it's your perfect eco-conscious companion.
5. Secret Garden Velvet Meditation Cushion
Introducing the Secret Garden Velvet Meditation Cushion, your serene haven. With a 4.9-star rating from 52 reviews, it's a gem from the Secret Garden Store. Available in colors like Rose Pink and Forest Green, it's crafted for relaxation.
Its eco-friendly buckwheat hull filling molds to your body, ensuring proper posture and support. The velvet fabric offers comfort, while the filling can be adjusted for your preference. This cushion is built to last, eco-friendly, and for every order, a tree is planted. It's a thoughtful gift with a carrying bag and a stylish box. The Secret Garden guarantees satisfaction with a 100% money-back offer.
Conclusion
Meditating with a meditation pillow can be a great way to achieve zen and improve your physical and mental well-being. There are many different types of meditation pillows on the market, and it's important to consider the size, material, and support it offers before deciding on one.
With the right pillow, you will be able to achieve a comfortable and supportive posture and enjoy a more rewarding mindful practice. We hope this article has helped you to choose the best meditation pillow for your needs!